Accurate measurements will ensure a good fit for your child.
1) Waist: measure at your child's natural waist.
2) Rise: Put the 0 end of the tap measure at baby's belly button. Thread the tape measure between his/her legs and up above the top of the diaper.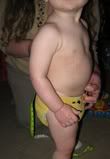 3) Hips: Wrap the tape measure over the widest part of the diaper booty in the back and the widest part of the hips side to side.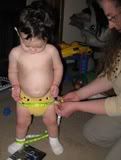 4) Thigh: Wrap the tap measure around the thickest part of baby's thigh.
5) Inseam: Measure from the bottom of the diaper to the floor for longies. Bottom of diaper to knee for shorties (or to desired length). Baby should have a straight leg, model was not being cooperative.