First I just want to say how embarrassed I am about my messy kitchen. Please overlook the mess. I'm a creative diva, not a maid ;-)
1) I obtained some dried calendula and chamomile from a local store, The Spice Merchant. I'm going to use about 0.75 oz of each herb to do this infusion.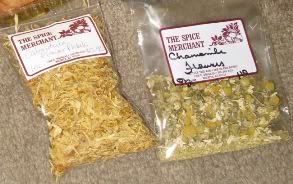 2) I put the herbs into a pint-sized glass canning jar.
3) I added about 5 oz of rice bran oil and 5 oz of olive oil to the herbs in the jar. Andee suggested I use a colorless oil, like colorless jojoba, so I could see the oil turn yellow. Unfortunately I didn't have any on hand and I was too excited about trying this to wait for the oil that I ordered to come in the mail.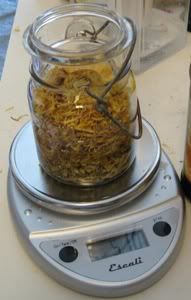 4) I put the jar (with the lid) in a sunny spot on the back deck. When I checked it in the afternoon, I moved it because it was in the shade. The jar was warm but not so hot that I couldn't hold it.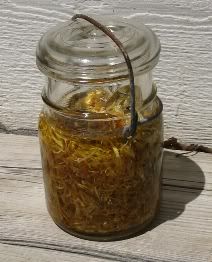 5) I read that I should leave the jar in the sun for 2 days. When I woke up the next day it was raining. I decided to use another method. This time I put the jar in a few inches of water in my 'crafter's saucepan' and heated it on low heat. I checked it a few times to make sure the jar was warm but not too warm. I read that the temperature of the oil should not exceed 120 degrees F. I did this for about 3 hours. Then I turned off the heat and let the whole thing sit for about 3 hours.
6) When the oil returned to room temperature, I strained it. I put a piece of cheese cloth folded so it was 4 layers thick over the mouth of the jar and poured the oil into a bowl. A few tiny specks of herbs went through the cheese cloth but the oil looked pretty smooth. Another http://forum.thesage.com/ member suggested that I use a panty hose in the future to completely remove the herbs.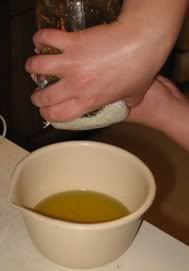 7) Finished product: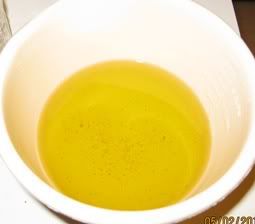 I poured this into a dark tinted plastic bottle for storage. I can tell that something from the herbs remained in the oil because the oil now has the lovely aroma of calendula and chamomile.
8) When I was done with the oil I didn't want to throw out these fragrant herbs still in the jar. I scrapped them into my coffee bean grinder and pureed them.
I mixed the puree with 1/4 cup kosher salt and 1 tablespoon Jojoba oil to create a salt scrub. It feels wonderful on my hands and elbows.
Andee alternatively suggested that the pureed herbs could be added at trace when making calendula soap. I bet that's a wonderful bar of soap!